The Tour
From January 11–19, Franklin Graham will embark on a six-city Florida tour. One-night prayer and evangelism events are scheduled to take place in Jacksonville Beach, Plant City, Panama City Beach, Key West, Boca Raton and Fort Myers.
Franklin Graham will share the Good News of Jesus Christ at each stop, calling the lost into a life-changing relationship with Christ—and encouraging Christians to boldly live out their faith. He will be joined throughout the tour by singer/songwriter Jeremy Camp.
"The most critical thing you can do is pray, pray, pray. The intercession of God's people is crucial if we are to see a return to the Biblical faith of our fathers, the faith that has guided and sustained our country for so long."
—Franklin Graham
Franklin Graham
Franklin Graham is the oldest son of the late Ruth and Billy Graham. Like his father, Franklin Graham has devoted his life to proclaiming the Gospel of Jesus Christ. He serves as President and CEO of the Billy Graham Evangelistic Association (BGEA) and Samaritan's Purse. His first evangelistic event with BGEA was held in 1989. He has spent the past three decades spreading the Good News, holding evangelistic Festivals across the U.S. and around the world.
Franklin Graham's Decision America Tour made headlines in 2016 as he visited all 50 U.S. capitals, challenging Christians to lead lives rooted in Biblical principles and to pray earnestly for America.
Since then, he has continued the tour, drawing more than a quarter-of-a-million people to Christ-centered events in the Pacific Northwest, the Northeast, Tennessee, Texas and California.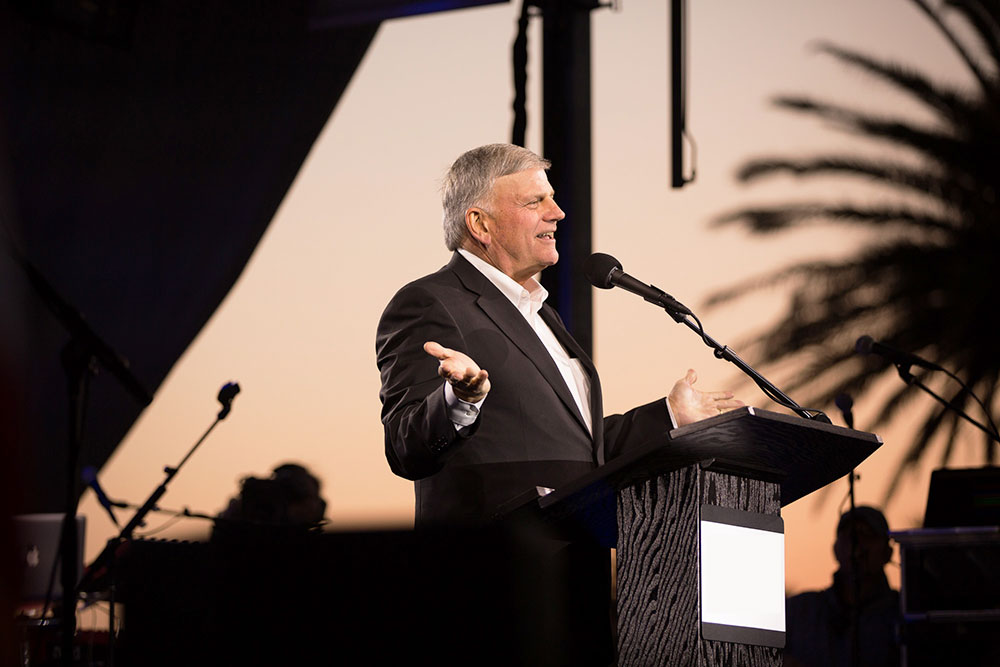 As the head of the international relief and evangelism ministry Samaritan's Purse, Franklin has spent decades working to meet the needs of the poor, sick and suffering in more than 100 countries.